All Hand Built in the USA using superb Tone Kraft USA materials.

---
Bear AR90
Cavalier Bear AR90 (P90®)
- A vintage P90® style pickup, calibrated by position (neck, middle, bridge). This is an early rendition of the classic P90® that Gibson used in their 1946 ES125 guitars and uses rod magnets and 42AWG coil wire, with 10000 turns for the neck position, 11000 for the middle and 12200 for the bridge. A blend of "Gibson meets Fender". A favorite for the neck position in a Tele® and just perfect for a lap steel! A choice of all A5 rod magnets for the most output and aggressiveness, or a blend of A5 rod magnets for the bass strings (E/A/D) and A3 rod magnets for the treble strings (G/B/E) that allows a sweeter high end, or all A3 rod magnets for the most string to string clarity. Supplied with covers (a choice of black or cream) and body mounting screws with height tubing.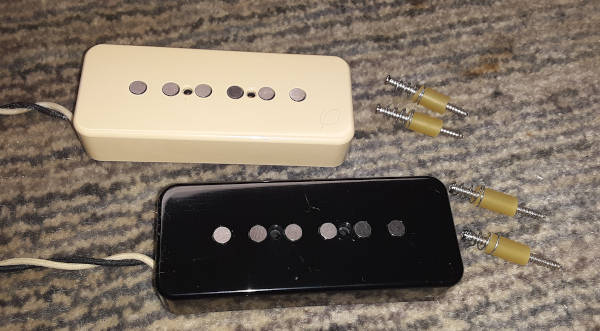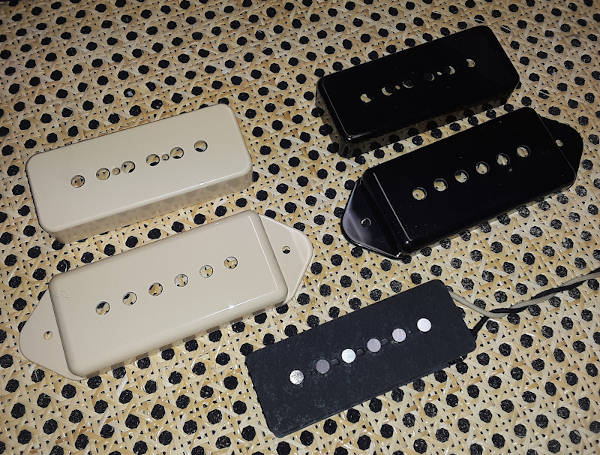 AR90 bobbins are constructed with vulcanized fiberboard, as most vintage pickups are built. In the image below, the top bobbin is a plastic Gibson® P90®, below it is a fiberboard P90® bobbin, and at the bottom is an AR90 fiberboard bobbin. The much taller AR90 bobbin is actually about the same depth as a completed P90® with its bar magnets and baseplate.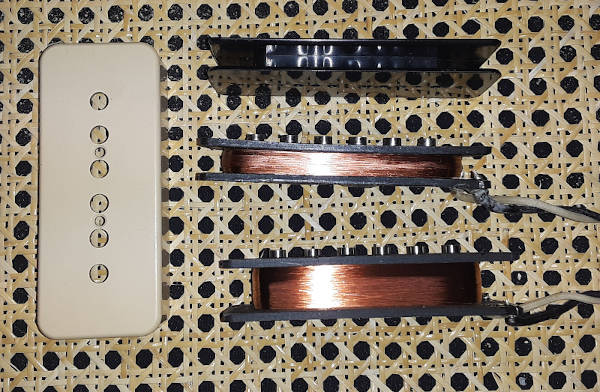 An AR90 pickup sits in a dog ear cover about the same as a P90®.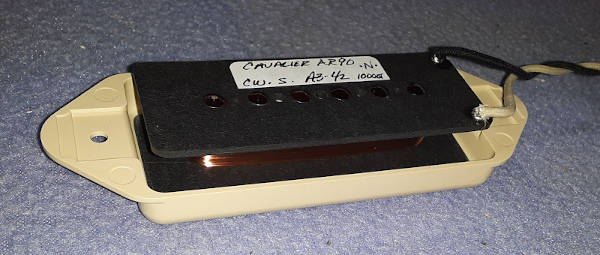 ---
Cavalier Pickups Build
- Cavalier Tele®, Esquire®, AR90 (P90®)and '51 P-Bass® pickups are all built to respective vintage footprint specifications and all will properly fit into Fender® guitars and basses, or any guitars/basses built to Fender® pickup footprint specifications. I hand build all Cavalier bobbins with vulcanized fiber board flatware, AlNiCo V or III rod magnets, hand guided 42AWG or 43AWG coil wire using a custom coil winding machine of my own build, with Red Lion infrared trigger and digital counter. The Lion bridge pickup has a steel base plate and its wire coil is wound with cotton string. The Lioness and Fat Lioness Tele® neck pickup wire coil is covered with black or ivory/parchment string. All Cavalier non-tapped pickups have cloth covered lead wire. Light wax potting (which is the default for all Cavalier Pickups) will suppress feedback and microphonics well enough for the vast majority of guitarists and will allow pickups to render "lively" and "resonant" sounds with increased harmonics. Heavy wax potting is an option that may help those who play at really high full tilt boogie volumes with gobs of gain. In doing so, some of the "liveliness" of the overall sound is somewhat suppressed. Wiring - black cloth covered leads are the coil ground and yellow cloth covered leads are the coil hot side.
Pickup Polarity and Wind Direction - Unless customer specified, all Lion bridge pickups are wound counter-clockwise and are top North poled (a magnetic compass South needle will point to the pickup's top), the Lion King, Fat Lion King, Lioness, and Fat Lioness Tele® neck pickups are wound clockwise and are top South poled (reverse polarity, or RWRP, from bridge pickups to allow noiseless parallel humbucking mode when both pickups are selected).
Using a simple magnetic compass to check single coil pickup polarity ...
In the image below, the North needle of the compass points to the top of the Cavalier Lioness Tele neck pickup, showing that pickup as SOUTH top poled ...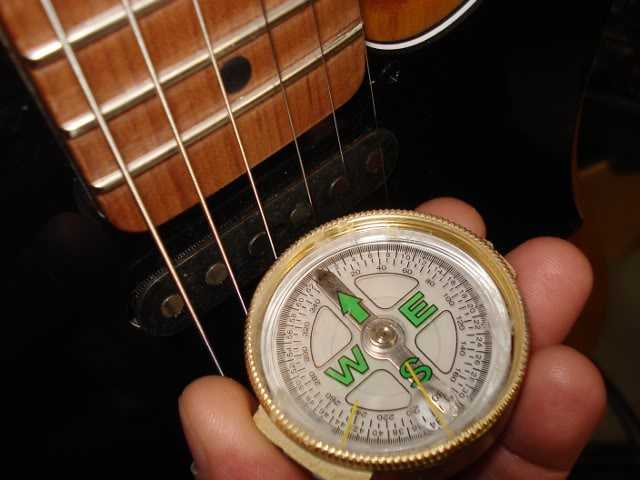 In the image below, the South needle of the compass points to the top of the Cavalier Lion Tele bridge pickup, showing that pickup as NORTH top poled ...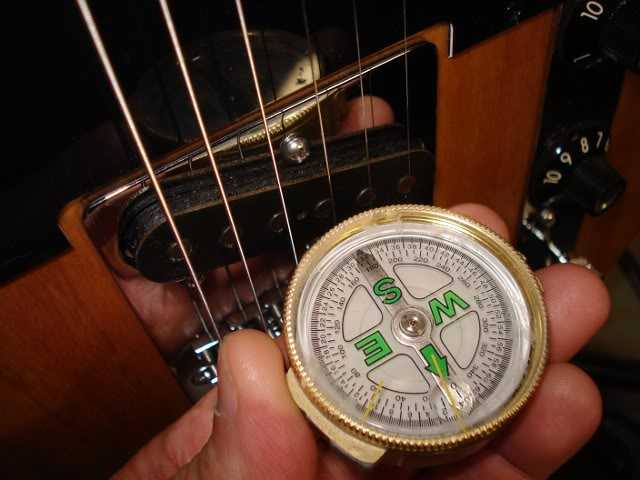 ---
As with most vintage style single coil pickups, the pickup height distance between the top of the pickup and the guitar strings is critical to tone - closer to the string for more volume and punch, further away for less volume and more acoustic sweetness.
Special Lion Info - There is no ground lead base plate strap with all Lion bridge pickups. Included with all Lions is a wired ground washer that slips over any one of the Lion's mounting screws and is soldered to the back of any pot. After putting a Lion mounting screw in the Tele/Esquire® bridge, slip on the wired washer over the screw, then slip on the rubber height adjustment. Without pickup ground strapping, the leads for all Lions can be swapped within the control cavity to fix any possible phasing issue. ....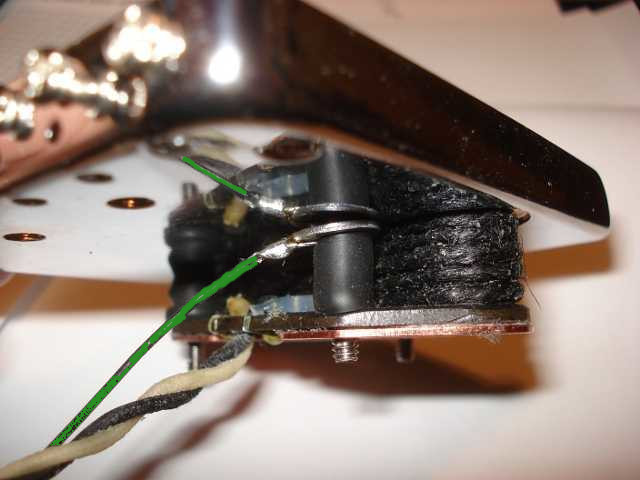 Lion Tele/Esquire® bridge pickups may have unusually high coil wire turn counts, therefore their tall bobbins are packed full. Take care installing a Lion into its bridge mount, insuring the string wrap and wire beneath it aren't crushed.
(Note - "Fender", "Tele", "Esquire", "Strat", "P-Bass", "J-Bass" are all copyrights of FMIC, "Firebird" and "P90" are copyrights of Gibson, Inc.


Cavalier Pickups
Rob DiStefano
58 Linden Avenue
Park Ridge, NJ 07656
201-573-0080


[email protected]



The real Cavalier pups!
Missy 1/16/2022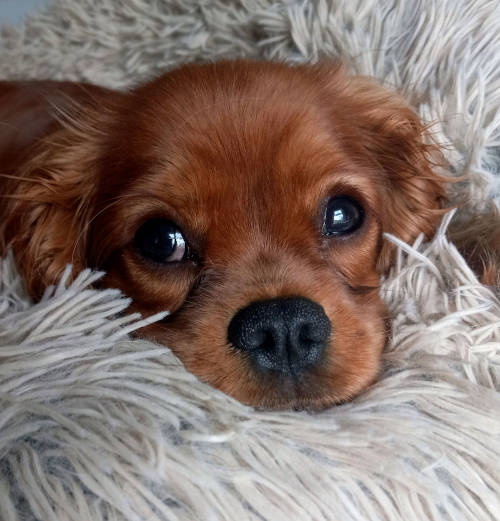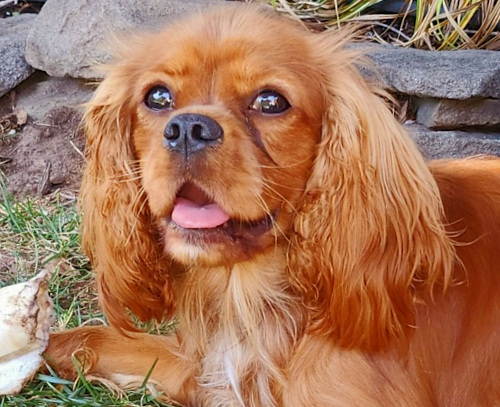 | | |
| --- | --- |
| Bubba 11/27/2008 ~ 10/19/2021 | Rosie 11/27/2008 ~ 4/17/2021 |
Rosco 12/27/96 ~ 11/18/2008